This morning I departed out of Owls Creek (Rudee Inlet) as the morning light started to show. I was surprised that it wasn't nearly as packed out there off the Virginia Beach oceanfront as I thought it was going to be, not nearly as many boats out in the morning then the previous time I went out. I made my way towards Cape Henry and stopped at a spot and began trolling North. It was slow for awhile and after two previous trips with no luck my hopes were not set too high.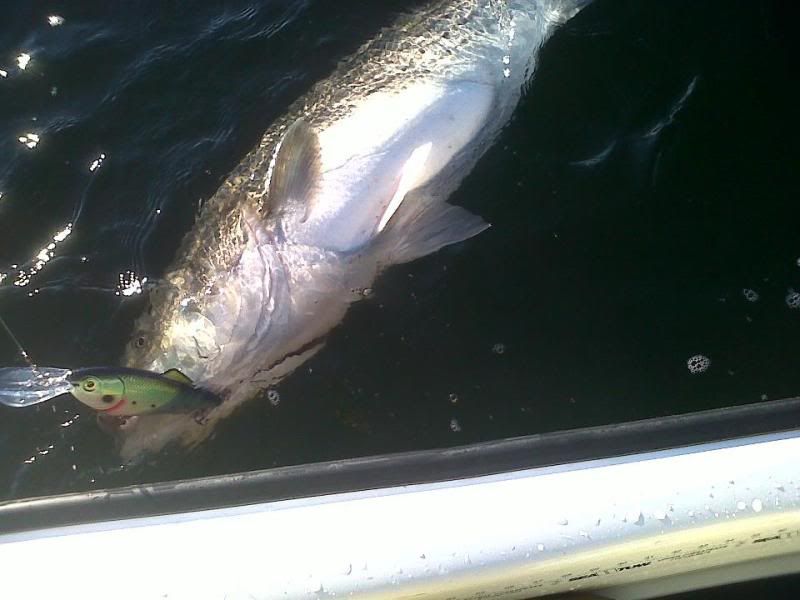 But in an instant, like a flick of a switch, I hear my clicker and line is coming off my reel. I got excited and quickly could tell I had a nice size fish on the other end of my line. About 30 feet in front of me I see its dorsal fin then its tail, which just added to the rush I was going through, I had finally hooked a big striper from my jet ski. Didn't take long to bring the fish near the ski, but unfortunately not long after it broke off. It would shake its head as I began to bring it up, so I waited awhile, tried again. I had my hand on the leader, my leg partially in the water to help assist flipping it onto the ski, and as my thumb gripped its mouth, just as I was ready to make one quick fluid move to get this fish into the ski, its head moves away from my hand violently turns, breaking the leader. Probably should have just grabbed the lure instead of his mouth. He appeared to be worm out enough to be brought in but he did a good job fooling me. It was hard watching the fish immediately but slowly swim away below the surface, but what felt worse was that I didn't get a chance to remove the lure.
After that, I was determined to catch another one, successfully this time. I left the large group of boats and headed back down where I caught the first fish, in hopes of another one. Not long after winds kicked up a bit and I made up my mind that I was going to head back very soon, right then my line starts ripping from my reel again. Redemption! I was able to wear this fish out more and bring it to the ski, this time quickly rolling it in using my leg and grabbing the lip of the lure. I quickly realized how beneficial having a metal stringer like Jet Ski Brian and some of the kayakers would have been. I had one around but made mainly made of small nylon rope but it wasn't that strong. I waited for awhile for the fish to calm down, then made my way back to Rudee. All the water coming onto the sides of the ski from the waves likely revived the fish a bit, because it suddenly made a violent attempt to escape nearly half an hour later, its tail begin to slide into the water but I pulled the rope and handled the fish back on. I was not going to lose this fish no matter what! I rode back with my foot on its tail just to be sure, holding the end the stringer rope on my other hand tightly.
This one was smaller, weighed in at a little over 20 pounds. Feisty fish. Overall, still a great day of fishing, the bite was slow but it looked like mostly everyone had a chance at catching one this time.
Happy New Years Everyone!!!